CDFI Innovation and Impact in the Delta
The Delta region is a very special place in America. Covering more than 250 counties from the tip of Illinois, south to Mississippi, and east into Alabama, the eight-state Delta region is home to ten million people. Its residents are hard-working, resilient, and creative people who care deeply about their communities. The Delta Region is also characterized by persistent and pervasive economic distress?with poverty rates three times the national average and unemployment that is double the national average.
The CDFI Fund's programs have played a substantial role in providing access to capital and credit for a variety of critical community needs throughout the Delta region. To date, the NMTC Program has spurred more than $3.3 billion of investment into 345 projects and Community Development Financial Institutions (CDFIs) have loaned or invested more than $5 billion throughout the region. CDFI Fund investments have supported a variety of affordable housing, small business and entrepreneurship, financial education and counseling, and commercial development in the Delta. For a snapshot of the CDFI Fund's impact in the region, click here.
I have often stated that for the CDFI Fund to be successful in its mission, CDFIs of all types and sizes are needed to address the variety of challenges and obstacles facing communities across the country. The greatest impact can be achieved when CDFIs work in collaboration with a diverse array of organizations in collective pursuit of community and economic revitalization.
Supporting a diversity of organizations, strategies, and collaborations is critically important in the Delta region. I recently had the opportunity to tour the Delta with certified CDFI Hope Credit Union to see first-hand an array of unique initiatives they have supported in an effort to improve lives in economically distressed parts of the region. Hope Credit Union indicates it has generated over $2 billion in financial and related services for the unbanked and underbanked, entrepreneurs, homeowners, nonprofit organizations, healthcare providers, and other community development purposes. Here is what I saw:
---
Hope Credit Union CEO Bill Bynum outside Moorhead, MS branch.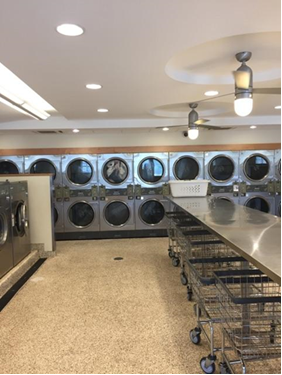 Social Suds co-locates key social services at a community facility.
---
Crosstown Concourse in Memphis, Tennessee has special significance for me in that it was the very first site I toured upon becoming Director of the CDFI Fund. I was there for the project groundbreaking in 2015. It was inspiring to go back this year to see the progress that has been made. Financed with $56 million in NMTCs from multiple CDEs (Mid-City Community CDE, DV Community Investment, Low-Income Investment Fund, SunTrust CDE, MidWest Renewable Capital, and National Trust Community Investment Corporation), Crosstown is a mixed-use redevelopment of a former retail distribution center. Billed as a ?vertical urban village,? it will provide one million square feet of retail space (including a grocery store), restaurants, health clinic, charter high school, art center, commercial offices, and affordable housing. At a total development cost of over $290 million, projected community benefits include the creation of at least 500 permanent jobs and the generation of more than $37 million new wages annually in an area experiencing a 32.9 percent poverty rate and an unemployment rate of 9.4 percent. To support its strategy of increasing access to the banking system for underserved populations, Hope Credit Union will have a branch located in Crosstown Concourse. The project is an exemplar of what can be achieved when a community comes together, and when CDFIs and CDEs work hand-in-hand.
My Cup of Tea and The House at Orange Mound. The House at Orange Mound is a resource center for women in the Orange Mound community in Southeastern Memphis. Developed in the late 1800s, Orange Mound is one of the oldest African American neighborhood in the United States. The community experienced challenges and decay through the 1970s and 1980s, but community-led revitalization efforts have begun to reinvigorate this area. Working with women from the Orange Mound community, volunteers and staff teach computer literacy, child-rearing education, GED training, job readiness, cooking, sewing, gardening, and other domestic skills to women who have limited knowledge and marginal exposure to home economics, parenting models, and employment. An initiative of the House at Orange Mound, My Cup of Tea is a small business that packages and distributes tea and provides area women job skill training, mentoring and valuable experience running a small business. To enhance economic inclusion opportunities, Hope Credit Union supports Orange Mound efforts by providing financial education and on-site account opening to program participants.
Social Suds Resource Center is a laundromat managed by the South Memphis Alliance. The South Memphis Alliance (SMA) opened in 2000 to help organize neighborhood associations in the urban communities of South Memphis. Over time, SMA expanded to serve youth in foster care and families in need. Located next door to the SMA office, Social Suds provides a space for families to receive information from non-profit and government agencies while utilizing the facility. Again, as part of its economic inclusion activities, Hope Credit Union provides financial education and on-site account openings to SMA clients as part of a one-stop model for community services.
These businesses and projects are but a few of the many community revitalization and economic development initiatives that CDFIs and CDEs support in the Delta region on an ongoing basis. The CDFI Fund is proud to serve as a partner and facilitator in the continuing efforts to invest in community and economic development opportunities throughout the Delta region.
Annie Donovan is Director of the Community Development Financial Institutions Fund