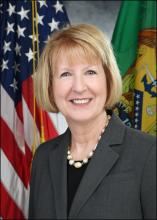 Paula Sampson is currently the Acting Program Manager and Senior Program Advisor to the Capital Magnet Fund at the CDFI Fund. She has been with the Fund since 2017 and has an extensive background in affordable housing development and finance at the local, state and national levels.
Prior to joining the CDFI Fund, Ms. Sampson was the President and CEO of Homes for America, a nonprofit housing developer. She was Executive Director of the combined Fairfax County, Virginia, Department of Housing and the Fairfax County Redevelopment and Housing Authority where she headed the agency in the development and financing of affordable housing, played a key role in the reinvention of the agency's Public Housing, and led several highly successful public-private partnerships for the county. She was the agency's Director of Real Estate Finance before being named Executive Director and was named "Housing Person of the Year" in 2015 by AHOME of Northern Virginia. Prior to this, she was President and CEO of the Connecticut Housing Investment Fund, a statewide CDFI, and also worked for the National Association of Counties.
Ms. Sampson has an M.B.A. from George Mason University and a B.A from the University of Michigan.