New Markets Tax Credit Program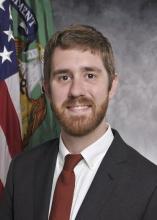 Christopher Allison is the Program Manager for the New Markets Tax Credit (NMTC) Program at the Community Development Financial Institutions Fund (CDFI Fund). Mr. Allison previously served as Associate Program Manager for the NMTC Program. He oversaw the development of NMTC application materials, led the implementation of the NMTC evaluation process in the CDFI Fund's new Awards Management Information System (AMIS), and made recommendations for tax credit allocations.
Prior to joining the CDFI Fund, Mr. Allison was a Program Manager at Single Stop USA, where he oversaw grant and performance management for a national portfolio of community-based organizations related to income supports. He worked on several innovative workforce development and asset building projects at Seedco, a national economic development intermediary. Mr. Allison has also held positions with Self-Help Ventures Fund and the Center for Community Capital in North Carolina.
Mr. Allison holds a Master of City and Regional Planning from the University of North Carolina at Chapel Hill with an emphasis on economic development, and a Bachelor of Arts degree in urban studies from Eugene Lang College at The New School in New York.