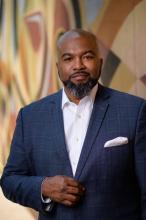 Harold B. Pettigrew, Jr.,
CDFI Representative
Chief Executive Officer
Wacif
Washington, DC
Harold Pettigrew, Jr. currently serves as CEO of Wacif, one of the Washington, D.C. metropolitan area's leading Community Development Financial Institutions focused on access to capital products and services, and capacity building technical assistance to low- and moderate-income entrepreneurs, women entrepreneurs, and entrepreneurs of color. Prior to joining Wacif, Mr. Pettigrew was the Director of Entrepreneurship at Prosperity Now, where he led the organization's national efforts to advance policies and programs that increase business success for low-and moderate-income microbusiness owners throughout the United States. In addition, Harold has served as an advisor to the World Bank, and served as an advisor to National League of Cities advising cities across the country on equitable development strategies. From 2011 to 2013, he served as the Director of Washington, D.C.'s Department of Small and Local Business Development. From 2009 through 2011, Mr. Pettigrew served as the city's leading regulatory official for licensing and regulation as the Administrator for the Business and Professional Licensing Administration at the Department of Consumer and Regulatory Affairs. Harold has a Master of Urban Planning from New York University, and a Bachelor of Arts in political science from North Carolina State University, where he has also served as a member of the university's Board of Trustees.