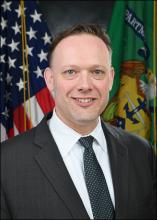 Andrew Schlack is the Program Manager for the Capital Magnet Fund (CMF). He joined the CDFI Fund in April 2017, and previously served as the Acting Program Manager, and Associate Program Manager, for the CDFI Program, and Native Initiatives team.
Mr. Schlack has over twenty years of affordable housing and community development finance experience. Prior to joining the CDFI Fund, he was Director of Investments at Calvert Impact Capital where he managed a team of finance professionals overseeing a portfolio of roughly $120 million invested directly into CDFIs, affordable housing developers, and other social enterprises. Prior to that, he served as Program and Loan Officer with the Greater Minnesota Housing Fund (GMHF) where he helped develop and manage GMHF's multifamily and single-family interim loan products, assisted in launching the Minnesota Equity Fund, oversaw GMHF's state-wide foreclosure recovery initiative, and assembled capital to support neighborhood stabilization efforts.
Mr. Schlack holds a Master of Architecture, as well as a Master of Urban and Regional Planning from the University of Minnesota's Hubert H. Humphrey School of Public Affairs.