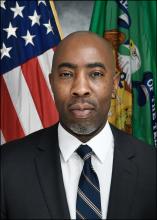 Dietrich Douglas is Legal Counsel to the Community Development Financial Institutions Fund (CDFI Fund) and in that role functions as lead counsel on all legal matters related to the CDFI Fund's policies, programs, and administration. Prior to being named Legal Counsel in 2023, Mr. Douglas served as Branch Chief within the U.S. Department of Health and Human Services' Medicare Operations Division where he supervised a team of attorneys handling claim appeals.
Before this, Mr. Douglas was Program Counsel with the Legal Services Corporation where he performed grant oversight and provided program guidance to federally-funded legal-aid organizations that serve low-income individuals. He has also served as Assistant Director with the New Jersey Department of Human Services, which manages federally-funded public assistance programs. There, he managed a legal unit that adopted regulations, drafted policy guidance, managed the third-party procurement process, and served as general counsel.
Mr. Douglas has more than 15 years of combined experience conducting grant oversight, managing legal and regulatory affairs in state government and practicing civil litigation. He holds a Bachelor's Degree from Virginia Union University, and a Juris Doctorate from Howard University School of Law. He is a member of the New York State Bar.