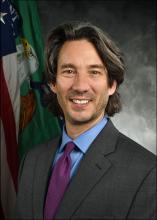 Jeff Merkowitz is Senior Advisor to CDFI Fund Director Jodie Harris and brings over two decades of both policy and direct, on the ground experience in the areas of housing finance and community development. He previously served as Director of Operations and Legislative Assistant to U.S. Senator Barbara Boxer, where he was responsible for crafting the Senator's policy responses to both the foreclosure crisis and the longstanding shortage of affordable housing in California. His work for the Senator to expand refinancing opportunities led to over 2 million struggling homeowners being able to refinance their mortgages at historically low rates, and he led efforts in the Senate to push the Federal Housing Finance Agency to fund the Housing Trust Fund and Capital Magnet Fund.
Prior to his time in the Senate, Merkowitz served as the Chief Financial Officer for Opportunity Fund, a certified CDFI. There he created the financial infrastructure to manage over $25 million in lending programs for affordable housing development and small businesses, as well as receive and distribute $50 million in New Markets Tax Credit allocations, and developed key partnerships with local and national banks. While in California, he also was a director on the board of InnVision, the largest homeless services provider in the South Bay.
Additionally, Merkowitz served as a Peace Corps Volunteer in Costa Rica, where he organized local women's groups to start up small businesses and provided assistance to rural communities with small development projects such as bridges, roads, health posts, and potable water projects. He is a graduate of Princeton University and earned a MBA from the Ross School of Business at the University of Michigan.