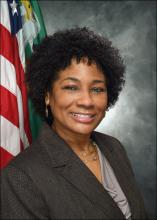 Karen Miller is the Financial Manager for the CDFI Fund, having the responsibility of managing the budget execution, formulating the President's Budget, oversight of the monthly financial statements, the CDFI Fund's yearly audit, and preparing their annual financial report (AFR). Her team provides support to all areas of the CDFI Fund, ensuring proper use of appropriated funds, the availability of funds, and responding to various data calls that come out of Departmental Offices, Department of the Treasury.
Karen came to Treasury in 1997 as a secretary in the Office of the Deputy Chief Financial Officer and later received her Bachelor's degree in Accounting, transitioning into the Office of Financial Management in 2000 as an accountant responsible for the Exchange Stabilization Fund (ESF), where she ensured that ESF consistently achieved clean audit opinions. She later became a supervisor, overseeing the reporting of various funds/accounts within Treasury, including the American Recovery and Reinvestment Act accounts. Prior to Karen coming to the CDFI Fund in November 2012, she also assisted in the financial reporting of Treasury's AFR and the government-wide financial statements.
Karen has a combined total of 31 years of Federal Government service, having spent 13 years with the Department of Defense prior to joining Treasury.