Financial Strategies and Research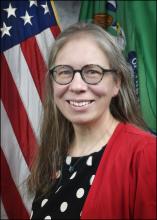 Shannon McKay is currently the Program Manager and Research Analyst in the Financial Strategies and Research Unit at the CDFI Fund. She has been with the CDFI Fund since 2019 where her portfolio has included managing the data collection, cleaning and report development of the Fund's Annual Certification and Data Collection (ACR) report, as well as supporting other research initiatives.
Prior to joining the CDFI Fund, Shannon was the Research Manager in the Community Development department at the Federal Reserve Bank of Richmond. Her research work there included small business lending, foreclosures, neighborhood stabilization, homelessness as well as workforce development and worker displacement. Shannon holds a Ph.D. in Urban Studies and Planning from MIT, a M.S. in Public Policy and Management from Carnegie Mellon University, and a B.A. in Economics from Vassar College.