Administrative Operations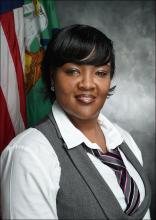 Telma Holmes is the Operations Manager of the CDFI Fund and oversees the management of the Fund's infrastructure, including human resources, acquisitions, property, equipment, space logistics, safety, travel, and training. Since joining the Operations team in 2011, she has been the Fund's Small Business Specialist, providing advice to the program offices on procuring small business and informing small business owners on procurement opportunities within the CDFI Fund. She began her career at the CDFI Fund in 2009, serving as Chief Information Officer.
Prior to the CDFI Fund, Ms. Holmes was the Contracting Officer Technical Representative (COTR) of the Treasury Foreign Intelligence Network (TFIN) where she was responsible for developing and directing the successful implementation of a project management plan to stabilize the Treasury Department's only Top Secret IT system.
Ms. Holmes has over 20 years of experience within the Department of the Treasury and has previously been an IT Specialist and Program Analyst within the Office of the Chief Information Officer, a Budget Analyst for the Working Capital Fund Program Office, a Program Analyst within the Information Technology Strategy and Policy division and has served as President of the National Treasury Employee Union.