Financial Strategies and Research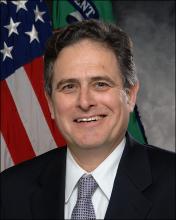 Greg Bischak manages the Office of Financial Strategies and Research at the Community Development Financial Institutions Fund. He oversees research and analysis related to programmatic activity, development of performance data and strategic research to ensure effective implementation of the CDFI Fund mission.
Prior to joining the CDFI Fund, he was a senior economist for the Appalachian Regional Commission where he directed economic development research. Mr. Bischak served as executive director of the National Commission for Economic Conversion and Disarmament and was for developing public education and policy research on economic conversion, defense employment impacts, disarmament and industrial policy. He was also an economic professor at Ramapo College in New Jersey.
Mr. Bischak is a member of the Transportation Research Board of the National Academy of Science, and Co-Chair of the Transportation and Economic Development Committee. His research has been published in a wide variety of scholarly journals and publications. He received his PhD from the New School for Social Research.