CDFI Provides Childcare Providers with Critical Support during the Pandemic
The COVID-19 pandemic forced many parents and their children to stay home as the country grappled with how to combat the new disease and keep the population safe through lockdowns, school closures, and emergency medical interventions. Employees from federal, state, and local governments, medical facilities, private companies, first responders, restaurant workers, maintenance workers, and other employees deemed essential or critical were required to continue working. This proved to be a difficult situation for many working parents considering that most, if not all, schools and childcare facilities were experiencing lockdowns.[1] This in turn created difficulties for childcare providers—while some clients had a greater need for services, others were sheltering at home with their children, thereby reducing the number of paying clients. As a result, large numbers of childcare providers were forced to close during the pandemic.[2]
Community Development Financial Institutions (CDFIs) have long played a substantive role in providing financing programs and technical assistance to childcare providers. In total, CDFI Fund Community Development Financial Institution Program (CDFI Program) Financial Assistance (FA) award recipients have provided more than $108 million in loans for childcare services and providers. In addition, more than $381 million in New Markets Tax Credits and $504 million in Bond Guarantee Program resources have been deployed to finance childcare facilities and services.
It is this experience in providing financial products and services that led many childcare providers to CDFIs for access to capital and credit during the pandemic to help keep their doors open. Reinvestment Fund (a Certified CDFI based in Philadelphia, PA), with its track record of providing support opportunities to childcare providers, is one CDFI that increased it activity in this area and deployed innovative financing programs as many businesses struggled to stay open.
In particular, Reinvestment Fund leveraged the childcare financing experience gained as a CDFI Program FA award recipient, to administer the Philadelphia Emergency Fund for Stabilization of Early Education (PEFSEE). The PEFSEE was established with funding from the William Penn Foundation, Vanguard's Strong Start for Kids Program, PNC Bank, Wells Fargo, and individual contributors to ensure that Philadelphia's early learning sector could weather the COVID-19 pandemic.
As the administrator of PEFSEE, Reinvestment Fund awarded a total of $8.3 million in grant awards to 416 childcare providers, early intervention, and home visiting services. Recipients utilized these grants to minimize the loss of capacity and expertise in the sector so that children and families in the Philadelphia area continued to have access to high-quality early learning opportunities throughout the pandemic. 
In prioritizing funding, the Reinvestment Fund compiled a "gap analysis" that measured the availability of high-quality childcare in different areas of the city. It also prioritized communities with high concentrations of families whose incomes were less than $32,000 for a family of three (150% of the poverty level in 2020) and those with a high proportion of jobs with incomes less than $15,000 per year.
Many PEFSEE grant recipients also qualified for the Small Business Administration's (SBA's) Payroll Protection Program (PPP). More than 30 early childcare centers across Philadelphia received both PPP and PEFSEE assistance from Reinvestment Fund. Many found the process of applying for PPP to be cumbersome and complicated, and were forced to endure extended waits before receiving an award. Reinvestment Fund and PEFSEE were able to serve important roles in providing centers with technical assistance in applying for PPP loans and timely financial assistance to remain open.
Bustleton Learning Center, which operates two sites in Northeast Philadelphia, is a PEFSEE recipient. In March 2020, Bustleton had been forced to close one of its locations and was on the verge of closing its second and laying off roughly 35 employees when it received a PEFSEE award and later, PPP funding. Bustleton Learning Center Executive Director Aliya Johnson-Roberts found that it was easy to apply for PEFSEE support and that the grant funds were received quickly at a time when the organization was at risk of shuttering.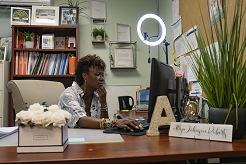 Aliya Johnson-Roberts, Executive Director, Bustleton Learning Center
"Applying for the funding without the support of Reinvestment Fund would have been a huge obstacle," commented Johnson-Roberts. "Once the application was submitted, knowing that we had a partner we could rely on was vital to our success."
People's Emergency Center (PEC), also located in Philadelphia, is another PEFSEE recipient. The organization supports families, children, and youth experiencing homelessness. PEC's Building Early Links for Learning (BELL) program creates bridges between shelters and early childhood education centers. It also provides support for providers so that young children living in shelters can receive quality care and education at a critical developmental period of their lives. This carefully developed relationship between shelters and early childcare centers was at risk of failing when the pandemic struck and the early childcare centers that PEC had been working with received mandates to close.
Understanding that isolation during the quarantine could have profound effects on children and their families, PEC wanted to ensure that families with young children could continue to keep their kids engaged and learning. With PEFSEE funding, a partnership was formed with Lakeshore, a company that creates educational materials for classrooms, to design custom, age-appropriate kits to help meet the social and emotional needs of children and their families quarantining in shelters.
"It was important for us to be able to support families and children in this unprecedented and highly vulnerable situation," shared Sara Vernon Sterman, Chief Program Officer at Reinvestment Fund. "For families residing in shelters, many of the resources that keep young children active, engaged, and learning can be out of reach. These individualized activity kits were a valuable tool for the children to continue to learn."
CDFIs across the nation, including Reinvestment Fund, continue to provide innovative support to businesses and families in underserved communities affected by the pandemic. Recently, 604 CDFIs from 44 states, the District of Columbia, Guam, and Puerto Rico received more than $1.73 billion CDFI Equitable Recovery Program awards to help distressed and underserve communities disproportionately impacted by COVID-19 pandemic. Many recipients have indicated that they will use their awards to increase the availability of and access to childcare facilities and services.
Gail Thomas is a Communications Specialist with the CDFI Fund.
---
[2] A report by Child Care America indicates that roughly 9,000 child care centers in 37 states and another 7,000 home-based centers in 36 state closed between December 2019 and March 2021.