Local Impact of CDFIs in Milwaukee and Chicago
Just before Thanksgiving, I visited Milwaukee and Chicago and had the opportunity to witness the impact that CDFIs are making in those great cities. CDFIs nationwide are building businesses, creating jobs, and developing housing, and the CDFIs in Milwaukee and Chicago are no exception.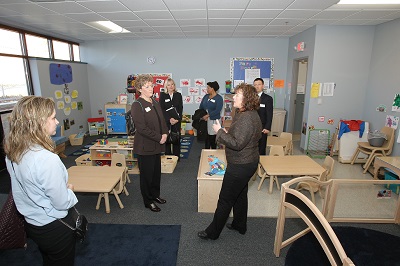 In Milwaukee, I visited Next Door, Inc. Next Door is an early education provider that has worked with thousands of children and families to give them the skills they need to achieve sustainable success in school and in life. Next Door?s mission is to support the intellectual, physical, spiritual and emotional development of children so they become self-sufficient, contributing members of the community.
Forward Community Investments, a Wisconsin-based CDFI and CDE, provided New Markets Tax Credits to help Next Door expand its Head Start and Early Head Start programs into a larger building. When the renovation of the 103,000 square foot building is complete, there will be space for 20 new classrooms, a children?s kitchen, a drama and art studio, and multi-purpose rooms.
What was most impressive to me about Next Door?s programming is that it goes beyond the child to include the whole family. They start with pregnant moms and support them through birth and the critical early years of their child?s development. They also have programs targeted specifically to dads!
I also met the inspiring Genyne Edwards, who runs P3 Development Group. P3 Development Group is a small consulting business that is focused on community development solutions for Milwaukee. Organizations such as United Way and the Boys and Girls Clubs of Greater Milwaukee have used P3 Development Group?s services to help them identify gaps and opportunities in the programs they provide to the local community. And now Genyne has been able to purchase her own office space, with the help of Legacy Redevelopment Corporation, which will enable her to continue to facilitate transformative change in Milwaukee.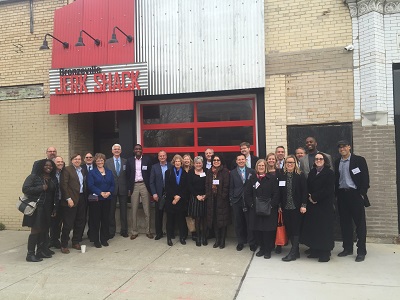 In Chicago, I experienced a wide range of CDFI projects on the South Side of the city because many CDFIs collaborated to plan and execute the tour. We all hopped on a big bus and toured over a dozen sites. For example, Bronzeville Cookin?s Jerk Shack, the home of delicious Jamaican street food. Founder Bernard Loyd is a visionary leader who is using food as a tool for community development. He has said, ?the path to good community goes through good food.? We also saw Stony Island Arts Bank, a formerly abandoned building turned into a neighborhood space that serves as a repository for African American culture and history. Both of these projects wouldn?t have come to fruition without the patience and persistence of Chicago Community Loan Fund.
We also visited Pullman Park in Chicago, a mixed-use development that will bring new retail, affordable housing, and park space to an historic part of the South Side. Pullman Park is possible thanks to New Markets Tax Credit investments from Chicago-area organizations, such as the Chicago Neighborhood Initiative, and will address the needs of an underserved area.
It is so energizing to see the impact CDFIs make locally, and how communities and lives have been transformed by CDFIs. At every project I visited, it was clear that CDFIs are working at the intersection of people and place, not just financing tangible assets, but seeding opportunities for future generations to thrive.